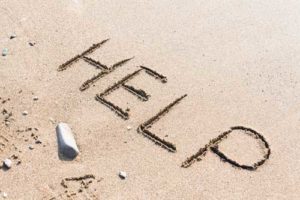 Imagine you're stranded on a desert island. No tools. Limited resources. No help. No one to talk to. You know your circumstances are dire. Then you notice something sticking out of the sand. It's an antenna. You brush away the sand and rocks and amazingly find a satellite phone. It seems to be in working condition. You recall reading a magazine article about these things saving lives.
You think to yourself, "What are the odds I'll get anyone who can do anything?" You glance at a grove of bamboo trees about 50 feet from you and think about starting to work on a raft. "That's a lot of work for one person. But I think I could figure out how to make one. Wish I had someone else here, even for a second opinion."
Assess the Situation, Make the Call
You look down at the sat phone and pick it back up. You see that there's a number that's been dialed several times and decide to give it a shot. To your delight, a friendly voice picks up on the other end. She seems eager to hear your story. She tells you that she's familiar with the island you're on. She's even helped many people get off that island in the past.
For the first time since landing on the island, you feel a sense of relief. How could that be? She must be so far away! As your conversation continues, the woman guides you through a vine-covered path. You didn't even know the path was there, but now you can see that it's been traveled repeatedly.
There is a Light
As you come to the edge of the brush and clear the branches away, you see light bursting through. You step out onto the sand just in time to see a lifeboat getting ready to anchor.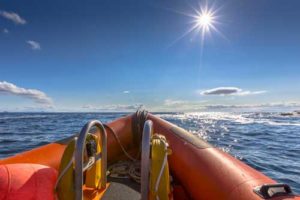 This is not simply a made-up exercise for your imagination. This is based on an actual Birthright client who chose to pick up the phone and call the Helpline. Even though she was hundreds of miles away, she was referred to our office because we were the closest Birthright.
She had found out she was pregnant only a couple of weeks before. Her boyfriend, the father of the baby, had just moved in with her. Initially, they were happy about the baby, but now she wasn't so sure. Her boyfriend had recently stopped taking his medication and his bipolar condition was out of control. She was even concerned for her safety and was considering having to leave the state. She needed to talk to someone. We were able to be the listening ear that she needed.
We helped her look into local and out of state resources and think through what she wanted. It took several weeks and conversations but things improved. The boyfriend got himself together and back to work. She is now much more optimistic about having the baby and we helped her find a pregnancy resource center near her. We at Birthright will continue to stay in touch throughout her pregnancy.
Taking the Next Step
Are you pregnant and feeling alone? Anxiety in the heart can weigh a person down, but a good word from a friend can make all the difference. Whether you're in the San Jose area or not, just give us a call. We can offer you a free, confidential pregnancy test and other services, or connect you to services near you.
Facing the possibility of an unplanned pregnancy can be a scary and confusing time. We don't believe anyone should have to go through it alone. Birthright San Jose is here to walk beside you through the process and make sure you're informed.
Disclaimer: The Birthright San Jose website and blog does not provide medical advice, diagnosis or treatment. Content from the Birthright San Jose website and blog is not intended to be used for medical diagnosis or treatment. The information provided on this website is intended for general understanding only and is not intended to be a substitute for professional medical advice.